Outdoor Rooms Add Livable Space
Spend less money on vacations and more time with friends and family on your deck or patio.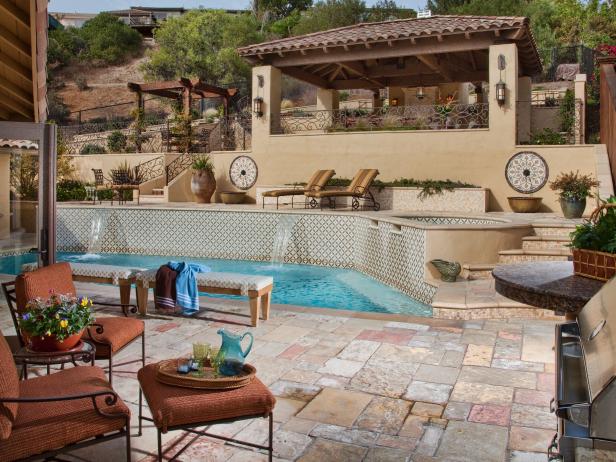 CI-Marrokal-Design-and-Remodeling-outdoor-pool-backyard_s4x3
Photo courtesy of Marrokal Design and Remodeling
Photo courtesy of Marrokal Design and Remodeling
Sometimes you need to get away from everything. And if the thought of one more rushed trip to the airport has you tied up in knots, consider a wonderful alternative: adding an outdoor room to your yard. Whether you want a fun playspace, an where you can channel your inner chef, an open-air living room made for entertaining or just need a quiet spot to chat or read, outdoor rooms can change the way you use your home and give you a user-friendly spot for the perfect staycation.
"I find these spaces are utilized a lot," reports Steven Mark, CGBP, CAPS, a designer with . "The feedback from my clients is: 'Wow, I can't believe we didn't do this sooner. And now we spend so much time outdoors.'"
Now is the time to create your fantasy fresh-air destination. According to the , the entire outdoor "leisure lifestyle" category is now a $6.2 billion industry.
There are all kinds of new products devoted to outdoor living. The simple is no longer just about gas or charcoal; you can now feature that include a cast-iron wok, griddle, pizza oven or rotisserie system.
There are stylish and for providing shade, energy efficient for illumination, hearth products that allow you to live outdoors more often, and waterproof that bring indoor leisure activities outside.
Livable Outdoor Spaces
02:41
Find out how an outdoor room can add functional living space to your home.
The growing interest in outdoor living just makes sense. Outdoor rooms make your home feel more spacious and create designated areas that enhance the enjoyment of your property. An outdoor room can be an extension of your house or an inviting spot off in a quiet corner of your yard.
A Charming Spot for Outdoor Dining
Rustic furniture pieces add warmth to an intimate backyard setting, while antique lighting allows guests to visit even after the sun sets. For those who enjoy the smoky flavors of a delicious homemade pizza, consider a brick wood-burning pizza oven. Photo courtesy of Wood Stone Kopke
An Oceanfront Escape
An ideal outdoor room is all about flow from the interiors. The oversize windows and the large opening to the balcony create an exotic staycation in a weather-controlled space. Photo courtesy of Kichler Lighting
An Outdoor Room for Fireside Chats
Outdoor fireplaces create a strong focal point in outdoor rooms, and they provide warmth for those cool evenings in the mountains. Photo courtesy of Mega-Bergerac
Lakeside Living
Sometimes all you need is a stone fire pit, two Adirondack chairs and a lake view. For a completely natural look, nothing beats stone. Keep in mind, natural stone costs more because it is quarried and has to be trucked in, adding transportation costs. Photo courtesy of Mega-Arbel
Outdoor Dining With a View
This outdoor dining room offers a year-round entertaining experience with a breathtaking view. When deciding on location for your outdoor room, consider how you want to use it. Photo courtesy of Gloster Furniture Inc.
Lounge-Worthy in the Backyard
Plush seating is a must-have in any outdoor room. Make sure you pick weather-resistant materials for long-lasting use. Photo courtesy of Kichler Lighting
An Intimate Gathering Place
Walls, a ceiling and a fireplace create a distinctive living room outdoors. Layer in mood lighting with eye-catching fixtures and lanterns. Photo courtesy of Kichler Lighting
Poolside Play
An umbrella is a great option to shade your outdoor living spaces. Also, consider awnings, canopies and gazebos to keep your guests comfortable on sunny days. Photo courtesy of Room and Board
Southwestern Retreat
Personalize your space with flair. This rustic outdoor room by is complete with a branch chandelier, flagstone flooring, a patterned rug and an antique.
Pops of Color
While gray stone is a classic hue for an outdoor space, add pops of interest with colorful accessories. When picking your furniture pieces, look for synthetic wicker for more durability. Photo courtesy of Mega-Arbel
Courtyard Dining
A full-service outdoor kitchen and dining area invites a crowd. In a sheltered backyard, large French doors with transom windows above can provide access while allowing natural light into your home.
A Grand Retreat
Provide plenty of seating options for your guests. This outdoor room features a plush couch, a built-in bench and a dining area for optimal gathering. Photo courtesy of Marrokal Design and Remodeling
Simply Chic
Turn your dull concrete slab into a fabulous backyard focal point with a clean mix of color. To define the space, face some seats toward your house. Photo courtesy of Room and Board
Contemporary Outdoor Dining
To add structure to the space, added walls covered with scented herbs and fruit.
Outdoor Destination
Greenery adds softness to a hardscaped outdoor design. Choose plants that are well-suited to your area and give them plenty of room to thrive in big pots. Browse images from
You can add a series of outdoor rooms, each with a specific purpose and unique feel. Consider what you want to create and how you plan to use your outdoor room. Like rooms inside, you want to give thought to things like circulation, picking the right furniture, incorporating accessories to add color and personality to the space, and important basics like lighting needs.
Unlike the indoors, you also need to consider issues like sun and wind exposure, as well as how you can integrate your outdoor room with your landscaping. Think about all your options and dream big. Put away the passport and get busy creating the perfect outdoor room that makes your home feel like a resort destination.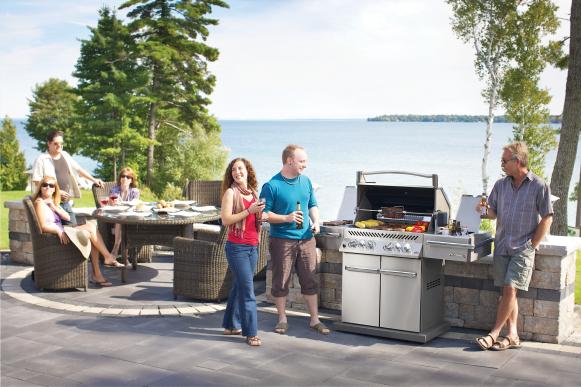 CI-napoleon-outdoor-kitchen-grills_s4x3
Photo courtesy of Napoleon
Photo courtesy of Napoleon
Outdoor Rooms for Gathering and Entertaining
Having an outdoor space where you can socialize is a wonderful addition to any property. When you move the party outdoors, everyone tends to relax and you don't have to worry about spilled drinks or plates of food ending up on your floor and furniture inside.
For many, a is the essential component for entertaining outdoors. You can choose a portable, pedestal, drop-in or custom site-built grill. You can go with gas, charcoal or a hybrid grill that offers the best of both worlds.
There are other options, including pellet grills and smokers, or you can combine your grill with a pizza oven. Increasingly popular, pizza ovens are now used for much more than pizza: think cedar plank salmon, braised vegetables or bananas Foster. When choosing a pizza oven for your outdoor kitchen, Jeff Dunkin, a residential sales representative for , says look for an oven with a single cast floor and dome roof that is easy to assemble, durable and conducts heat well.
A Considerate Outdoor Kitchen
Consider a ventilation hood for your outdoor kitchen if your setup is close to the house. It will save you from smoke and cooking odors that creep up during grilling and find a way into your home. Photo courtesy of Danver Stainless Steel
Staying Tuned In
Outdoor kitchens are becoming much more fully functional. From refrigerators to side burners, flat-screen televisions to surround sound, this outdoor space is where all of the action happens. Photo courtesy of Cal Flame
Designed for a View
Take advantage of your surroundings when planning your outdoor kitchen. From the kitchen island to the grill station, everyone has a rela view of the lake. Photo courtesy of Napoleon
The Ultimate Grill Station
A great grill is all you need in your outdoor kitchen. This grill station features high-quality materials and an abundance of counter space. Photo courtesy of Cal Flame
Smart Storage Solutions
The two biggest mistakes in outdoor kitchens are not enough counter space and not enough storage. This kitchen, designed by Kalamazoo, includes enough space for a family to prep food, cook and serve.
A Kitchen for Entertaining
This design is ideal for cooking and entertaining. While guests sit at the bar and enjoy a crisp glass of wine, rela conversation and food preparation can occur simultaneously. Photo courtesy of Danver Stainless Steel
All the Amenities
A U-shape design is ideal for a larger freestanding kitchen with a grill, refrigerator, dishwasher, sink and bar area. Roofing the space protects high-end amenities from unexpected elements of weather, and it enables the kitchen to be enjoyed at all times. Photo courtesy of Green Scene
A Poolside Escape
Having a poolside kitchen is a great option for entertaining. Consider stocking the space with a refrigerator, sink and plenty of storage so you won't have to run back inside. Photo courtesy of Mark Scott
A Stainless Steel Station
Stainless steel is a quality material for outdoor kitchens because it is low-maintenance and durable. This outdoor grill station is designed by KitchenAid and features high-end amenities that are built to tackle any family mealtime.
Two Grills are Better Than One
If you have a large family, entertain a lot or just want the ultimate grill station, consider installing multiple grills to make an impact. Consider a high-powered ventilation system if you're enclosing your outdoor kitchen. Photo courtesy of Mark Allen
But think beyond the grill or oven. A well-appointed outdoor kitchen allows you to create a full meal outside, eliminating trips inside for supplies. Surround your grill or oven with . Choose a , like concrete or slate, that complements your home.
Include good task lighting above cooking and prep areas, and add an outdoor bar with comfy stools. Make the bar self-sufficient with a built-in sink, wine chillers, keg taps and ice maker. Wireless stereo speakers and a waterproof outdoor TV with anti-glare screen lets guests enjoy their favorite music or catch the big game.
Create a Space for Outdoor Dinning
An adjacent is perfect for enjoying food prepared outside. Ideally you want a location that is upwind from the smoke and fumes from the grill.
A Grand Experience
Great design meets the great outdoors in this space. A fireplace sets an inviting ambiance, while plush leather chairs and a grand table creates an old world focal point. Photo courtesy of Mark Scott
Entertaining Essentials
Having a place to prepare meals while visiting with guests is a valuable appoarch when designing an outdoor kitchen for entertaining. An oversized ceiling fan provides a delightful breeze and detailed molding makes a luxurious statment. Photo courtesy of Mark Scott
An Elegant Escape
Entertaining is easy in this outdoor kitchen and dining area, because meals can be served right off the grill. Lush greenery frames this elegant display of iron bar stools and high-quality materials. A refrigerator in the corner is a convenient option for keeping drinks cool and food fresh. Photo courtesy of Mark Scott
Dine with a View
This outdoor kitchen bar offers a year-round entertaining experience. Creative use of mood lighting lines the ceiling and avoids competing with the breathtaking sunset scenery. Photo courtesy of Mark Scott
A Rela Staycation
An outdoor space with a variety of seating options creates a rela environment for guests to visit and enjoy intimate meals. Curtains add a touch of comfort and luxury, while defining the space. Photo courtesy of True Covered Outdoor Kitchens
A Bold Approach
Yellow and black is an attractive color combination in this outdoor kitchen. Two ceiling fans infuse stylish comfort and neutral tones in the backsplash add warmth. Photo courtesy of Laserton
Serene in the City
Peaceful surroundings come to life with elements of water and a lush green privacy wall. The sleek bellagio patio torch, designed by Napoleon, provides cozy mood lighting that can be enjoyed year-round.
Include a large single table or multiple smaller tables that give you flexibility for extra guests. Use outdoor cushions and pillows to make dining chairs or benches comfortable. Illuminate the space with a beautiful chandelier, a string of lights added to a shade umbrella, lanterns or protected candles on the table. Place your outdoor dining table inside a cabana with drapes you can open or close or include patio heaters to keep guests warm on chilly nights.
Design an Outdoor Living Room
After dinner, move the party to your outdoor living room. Set up a seating area with an outdoor sofa and chairs on a , or even an area of grass.
Create a focal point by including a two-sided fireplace or seating around a built-in firepit. Use hedges, fences and the outside walls of your home to help define the space and provide privacy. Create a "ceiling" by including an overhead structure, like a pergola, shade arbor or solid roof. An overhead structure allows for extras like ceiling fans that make the space comfortable.
Outdoor Spaces: Max Livability
01:05
Use these expert tips to get year-round use out of outdoor living spaces.
Consider These Design Ideas for Entertaining
If you lack the space for a fireplace or large fire pit, a portable chiminea can keep guests warm on cool nights.
Low retaining walls and built-in planters can provide extra seating for large gatherings.
Market and provide shade but also offer flexibility when you or your guests want to enjoy the sun.
Use accessories like and throws to add color and personality to your fresh-air living space.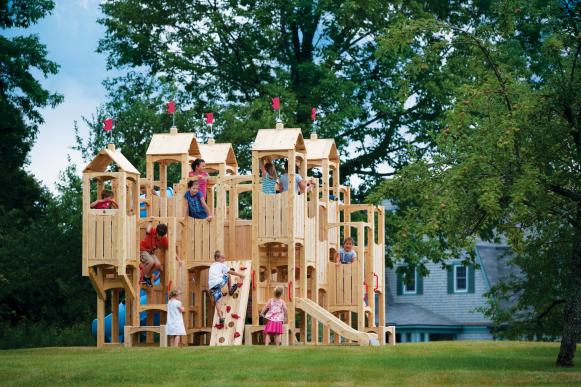 CI-Cedarworks-outdoor-kids-play-ground_s4x3
Photo courtesy of Cedarworks
Sean Carnell
Photo courtesy of Cedarworks
Outdoor Rooms for Playing
There was a time when "backyard recreation" meant turning on sprinklers and letting the kids go wild. But the concept of outdoor playrooms has evolved, and now some yards are virtual amusement parks designed to offer something for all members of the family. From putting greens and playhouses to game courts and sandboxes, homeowners are creating outdoor spaces to play, relax and engage imaginations.
Play structures now come in all kinds of configurations. Swings, slides and ladders are the most popular components. Bridges, rock walls and rope ladders are a few of the other options. There is also a wide variety of forts, treehouses and magical playhouses that give kids their own space to play.
Make your child feel special by including a personalized mailbox. Flagpoles, flower boxes and personalized signs are other nice additions.
If your kids love soccer and want to practice at home, choose a grassy location a bit of distance from the house to avoid errant balls breaking windows.
Durable turf grasses like Perennial Ryegrass and Bermuda grass are good choices for recreational lawns. Inflatable kiddie pools are an old standby that help beat the heat, and now you can find them shaped as castles and pirate ships.
For the adults, a bocce ball court surrounded by plantings can be an attractive addition to a formal backyard. A patio or terrace is a great location for table tennis or a waterproof outdoor pool table. If you have a large lawn free of tree roots or holes, you can use the space for croquet or quick pickup games of flag football. When you host large parties, use the same grass playroom as a spot for extra tables and chairs.
For the Little Rascals
Get your kids outside with a custom-built clubhouse. From neighborhood sleepovers to make-believe adventures, your child will never want to sit inside. Photo courtesy of Lilliput Play Homes
Sandbox Safety
Fill sandboxes with filtered and cleaned fine-grain play sand that is easy on the skin and won't stain clothes. Photo courtesy of KidKraft
An Outdoor Firehouse
For those kids who dream of being firefighters, now they can have a place that encourages their imagination. Outdoor playtime spent rescuing the neighborhood cat or riding around on a kid-size fire truck looking for adventure will afford a lifetime of memories. Photo courtesy of Lilliput Play Homes
Tables for Kids
Make sure you provide plenty of seating and table space for your little one. Outdoor dining tables can do double duty as game tables on a porch or patio. Photo courtesy of KidKraft
Materials for Outdoor Play
When picking your outdoor playground, pay attention to the materials. Cedar Works uses splinter-free, chemical-free and maintenance-free Northern White Cedar wood for a kid-friendly outdoor design.
Exploration in the Backyard
Encourage your child's curiosity. Colorful plants or an organic veggie garden planted next to a child's play structure gives little ones a chance to learn about nature. Photo courtesy of Lilliput Play Homes
Do-It-Yourself Playhouse
If you want your kids to participate in the fun of helping with the construction of their outdoor space, consider do-it-yourself options. KidKraft offers easy-to-assemble playhouses that are made with weather-resistant wood.
A Knight's Outdoor Retreat
Creating an outdoor space for your child will fuel his imagination. This outdoor castle features backyard adventures of slaying dragons and rescuing princesses. Have fun planning a playhouse around your child's interests. Photo courtesy of Lilliput Play Homes
Consider These Tips for Creating a Playspace
Use play-grade shredded bark or rubber mulch to create a soft floor for outdoor play structures.
Fill sandboxes with filtered and cleaned fine-grain play sand that is easy on the skin and won't stain clothes.
A butterfly or organic veggie garden planted next to a child's play structure gives little ones a chance to learn about nature.
Outdoor dining tables can do double duty as game tables on a porch or patio.
Combine a grassy area for games with a concrete patio for riding bikes.
A removable teepee is great for outdoor sleepovers or reading time, while kid-size tables and chairs with an umbrella for shade are ideal for doing art projects or playing table games outside.