Solving Common Porch Problems
There are simple solutions that help you create a user-friendly porch.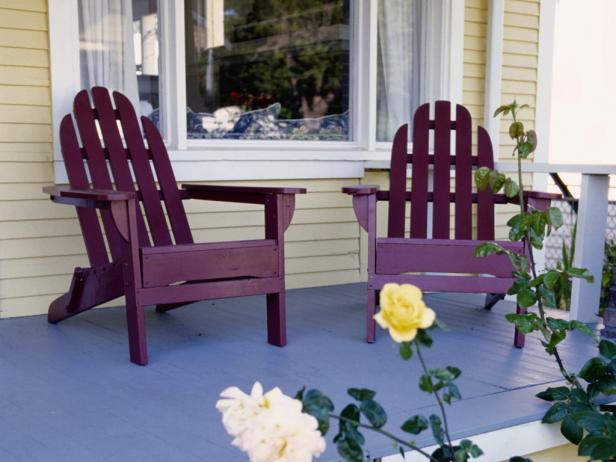 CI-Kelly-Moore_blue-porch_s4x3
Photo courtesy of Kelly Moore
Photo courtesy of Kelly Moore
While porches offer an opportunity to improve how you use your home, they can also present challenges. The layout of your property, the proximity of neighbors and even sun exposure are issues that can sometimes make the planning and designing of a porch tricky.
Here are some useful tips on how to address common porch problems.
Your Porch Needs Extra Seating
When you have limited space on a porch and need seating to accommodate guests, you can bump out a corner of the porch, incorporate seating into planters or use porch stairs for informal gatherings. For their own back porch, architects David Horsley and Joann Le of added a custom bench railing to the perimeter of their porch made from powder-coated steel and cedar.
"It's incredibly space efficient," says David. A strong spar urethane (a marine-grade finish found at many paint and hardware stores) was used to protect the railing-and-seating combination and the porch floor from the elements.
Cozy Porch Swings
When designing your porch, consider how you want to use it. A swinging daybed is a must-have for afternoon naps, while a charming wood bench provides extra seating for guests who stop by to visit. Photo courtesy of Sunbrella
A Pleasant Meal on the Porch
Outdoor dining is one of life's little luxuries. When you're choosing furniture for your porch consider how it responds to the elements of weather and how easy it is to clean. Photography by Beall+Thomas Photography
Charming Wooden Rocking Chairs
A wood rocking chair or swing are favorites on many porches, but remember that wood furniture requires paint, stain or a sealer. Making sure your outdoor furniture is properly maintained will ensure long-lasting use.
Lively Porch Accessories
Woven baskets, terra-cotta pots with fresh flowers and topiary planters can add lots of nice texture to a porch. Don't be afraid to be bold with vibrant colors on your porch.
Resilient Outdoor Materials
Use durable mildew-resistant outdoor linens, pillows and throws or a vibrant doormat to infuse color in an otherwise white porch. Blue and green colors are great for outdoor spaces, because they don't compete with the natural scenery.
Ropes for Swinging Daybeds
Hanging chains for porch swings are often made of stainless or galvanized steel. If you prefer the look of rope, make sure it is marine-grade braided nylon or polyester and check it regularly for wear.
Traditional Wicker
Natural wicker furniture is a classic choice but is best suited for protected porches. Porch furniture pieces made from synthetic wicker offer a wicker style but are more durable and can be exposed to the elements. Photo courtesy of Sunbrella
Mix and Match Furniture
Don't be afraid to mix different types of porch furniture together. Classic wicker furniture combined with a rich wooden coffee table creates an outdoor space that's charming and unique. Photo courtesy of Sunbrella
Your Porch Needs More Shade
In addition to split bamboo or wood matchstick blinds, there are durable fabrics well-suited for porch curtains. Choose weather-resistant fabrics, like solution-dyed acrylics or woven vinyl-coated polyester, which resist fading. And don't forget about plantings. Your surrounding landscaping (especially trees, leafy plants and shrubs) can often provide natural shade for your porch.
You Want More Privacy for Your Porch
You can make your porch feel more secluded by including louvered shutters or installing roll-down canvas shades. Portable room screens are another and less expensive option. A trellis with vines provides privacy and is an attractive way to add color to your porch.
Your Porch Always Feels Too Hot or Too Cold
If your porch is built on a concrete slab, consider electric radiant heat to warm your porch floor. for cooling and a fireplace for warmth are two other options that do double-duty as decorative features for your porch. David says they created removable custom glass panels to fit over a client's porch screens for the cold winter months.