A 'Fixer Upper' Timeline: From Waco to Worldwide Sensations
In the early aughts, a pair of young Baylor grads decided to spend their lives together. In 2018, everyone knows their names.
Chip and Joanna Gaines's story began when he brought his truck to the local auto shop and couldn't take his eyes away from the girl he spied in a family photo behind the counter. Eighteen years later, you'd have a hard time finding someone who didn't recognize him or her—and the business they've built together has spread all over the globe. Here's how they got from there to, well, everywhere.
Two years after meeting her, Chip exchanged "I do"s with the woman he "knew [he'd] marry...just by the picture on the wall." They tied the knot at the , the oldest home in Waco—a place Jo would later describe in The Magnolia Story as "a historic mansion that looks an awful lot like the place where we had our first date." But let's not get ahead of ourselves.
2003: The First Fixer Upper
As soon as they were back from their honeymoon, the Gaineses got to work on rehabbing their first home—which needed a lot of work. Though the duo had experience working together improving properties Chip had bought and rented to local students before reselling, that first personal effort...wouldn't get very high marks by their current standards.
It was "all over the map," Joanna . "The front room had sailboats in it, the kitchen was mustard yellow and French-themed, and the back den was rustic with cedar paneled walls, hanging horns and cow hides. I guess I was testing out my style." Hey, practice makes perfect.
October 2003: The "Little Shop on Bosque" Opens
Chip and Jo decided to take their design ideas public later that fall by purchasing a retail shop at 3801 Bosque Boulevard in downtown Waco.
"In that store, I developed and sharpened my design style and skills, grew as a business owner, and gained much-needed confidence in Magnolia Market and myself," Joanna said.
Those first steps as a business owner were meaningful ones: As Joanna , "There's an old antique tavern table that was my first purchase for the little shop [in 2003]. I never wanted to sell it because it was the first investment I made in the shop. I've held on to it for 13 years, and now it's finally settled in [the laundry room at the farm] and it's the perfect place to fold laundry and drink coffee."

2006: The Family—and Business—Gets Bigger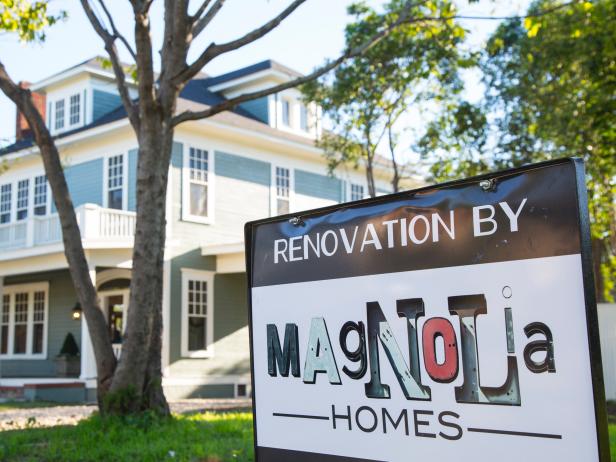 Large Home With Magnolia Homes Sign
"I started a local boutique and partnered with Chip to implement the Magnolia style in the homes he was flipping," Joanna Gaines, co-host of Prefit's Fixer Upper says of her husband. "We later branched out and started renovations in the central Texas area."
Sarah Wilson/ Getty Images
After welcoming their first two children—Drake (in 2005) and Ella Rose (in 2006)—the Gaineses made the tough call to shutter their shop and focus on the renovation-and-construction portion of their work. (The site of the Little Shop on Bosque became, and still is, a landmark for local visitors.)
January 2012: They Catch Prefit's Eye
Chip and Jo's photographer friend Molly Winn sent photos she'd taken of their then-home—a property they'd purchased as a flip and moved into themselves after selling their previous home—to Design Mom, a popular blog. The found its way to a production company that worked with Prefit ... and big things started moving very quickly.
May 2013: The Fixer Upper Pilot Wraps
Prefit viewers got their very first taste of Chip and Jo on a single episode that aired May 23 ... and then the waiting began. Now a family of five with more than 100 projects under their belt, they knew they'd done good work on the home makeover they'd opened up to the cameras. Would audiences agree?
July 2013: Fixer Upper Is a Go
In a word, YES: Chip and Jo shook hands on forging ahead with a full season, and their onscreen adventures—which became an Prefit mainstay when the first season got rolling in April of 2014—quickly became a ratings juggernaut.
May 2014: A Huge Fixer Upper Project
The Gaineses' friend and go-to carpenter Clint Harp has also developed some serious name recognition throughout his years on Fixer Upper, but early on in the series, he was also the subject of one of the show's most ambitious projects to date. Clint and his family were looking for some new digs, and Chip and Jo offered to help. They didn't know how big of a project they were taking on until they were knee deep in a full gut job, nearly a complete rebuild from the ground up. But the end results? Totally worth it.
October 2014: We Heart Chip and Jo
Who would have gone looking for America's sweethearts in Waco, Texas? As the Gaines' fame grew, plenty did—and by the end of the year, local hotels were reporting a tidal wave of new visitors from New York, California and the Midwest.
March 2015: Chip Performs his Greatest Stunt
The season two, "Three Generations, One Fixer" episode opens with a disclaimer from Chip that he does, indeed, do all of his own stunts and that he was in no way goaded into this incredible feat. Three years later, it definitely stands out as one of the greatest and most memorable moments of the entire series.
April 2015: Magnolia Market at the Silos Is Born
Jo's beloved Little Shop on Bosque reopened for business shortly after Fixer Upper hit the airwaves, but it quickly became clear that the Gaineses would need much more room for their new fans. The next spring, they embarked on a bold new adventure: Magnolia Market at the Silos, a 2.5-acre downtown space that housed a huge new retail shop, a bakery, a garden, food trucks, an outdoor event space and more.
Are You Ready to See the New Bakery?
In a different sort of Fixer Upper reveal, the Gaines kids get to play the role of the "clients" and be the first to see Chip and Joanna's newly completed bakery at Magnolia Silos. Then they get to be the first customers served.
BEFORE
The Flower Shop. The 1500-square-foot brick building, with peeling white paint, had once been home to Rosewood Floral Design Studio, a flower shop where Chip actually used to buy roses for Joanna while they were dating.
AFTER
The Bakery. Though it required some upgrades and repairs, the quaint little building had a lot of history and had secretly been Joanna's favorite part of the Silos property. It was a place where she had envisioned setting up shop for yet another bold endeavor: an old fashioned bakery.
AFTER
"I really want this to feel like this old-world bakery with a lot of charm," said Joanna. The building, which dated to 1890, took about four months to renovate.
AFTER
Joanna first considered sandblasting the brick exterior but ultimately settled on giving it a fresh, bright white exterior with contrasting accents like the black window frames, shutters, ironwork and metal awnings with alternating black and white stripes.
The Courtyard and Patio
One small window toward the rear of the building was relocated to the back wall to make way for the wall mural and shelf for bar seating.
The Courtyard and Patio
The courtyard features a paver patio and bistro tables and chairs for outdoor seating.
Magnolia Market and Bakery
The bakery is situated on the corner of the property, just across from the Magnolia Market home store, and is dramatically framed by the backdrop of the silos.
Magnolia Market and Bakery
Sweet Things Await Within
Joanna decided to retain the ironwork columns at the entrance which, though old, add character and a distinctive accent. Painted black, they tie in visually with the black shutters, exterior sconces, and gooseneck lamps.
Storefront, BEFORE
The building's interior required considerable upgrades including new framing, drywall, insulation and upgrades to the electrical, plumbing and HVAC.
Storefront, AFTER
Joanna opted to retain the exposed brick, beams and raw wood ceilings. The old flooring was removed and replaced with new hardwood floor laid in a distinctive herringbone pattern.
AFTER
"I really want this bakery to have a lot of white and black and some older wood...I want it to feel like it's been around for 100 years."
—Joanna
AFTER
"You know, I think the more and more we peel back the layers, the more and more I'm loving the space because I'm seeing the history of it...I really want this to feel like this old-world bakery with a lot of charm."
—Joanna
Storefront, AFTER
Customers and visitors are greeted by massive open metal shelves behind the counter displaying rows and rows of freshly made cupcakes.
Storefront, AFTER
Astute Fixer Upper fans will appreciate the significance of some of Joanna's cupcake names — like The Classic, The Shiplap, White On White, Nuts & Bolts and The Cup o' Jo.
Storefront, Detail
Furnishings like the counters, built-in shelf unit and this dresser are new, but painted and distressed to give them a vintage look.
Storefront, Detail
Joanna sought out antique doors and recruited the help of woodworking pro Clint Harp to strip them down to bare wood. The wood was left raw and unfinished, highlighting the natural texture and grain.
Bathroom, AFTER
The bathroom was updated to tie in visually with the rest of the space. White subway tiles for the walls, patterned floor tiles and natural wood keep the look clean and classic. Custom pressed-tin ceiling tiles were created for the bathroom by a friend in Hillsboro, TX. Old, reclaimed corrugated tin is flattened then pressed with a decorative pattern and painted.
Bathroom, Detail
An antique wall-mounted bathroom sink gets dressed up with contrasting black hardware.
The Tao of Cupcakes
A sign in the bakery offers a philosophical view on the soul of the cupcake.
Test Kitchen
Back in the kitchen at Magnolia Farms, Joanna tries out numerous recipes and combinations in an effort to hone the selection of cupcakes and pastries to be offered at the new bakery. Chip generously offers to assist.
Test Kitchen
"So not only am I trying to figure out the design and finalize that so we stay on schedule, [but] there's a whole other element — the menu. It's taking some time and some thought and some trial and error... I think I've tasted more cupcakes in the last month than I have in my entire life."
—Joanna
The Classic
One of Joanna's signature cupcakes is "The Classic" — with chocolate cake topped with buttercream icing and a tiny mangolia leaf.
The Finished Space
"I think, for me, the inspiration was, I wanted this thing to feel like it had been here all along. I didn't want the renovations to take away from the history of that building. And I feel like, when you walk in, it really feels like this place has been here for 100 years."
— Joanna
Patio and Courtyard
Joanna particularly wanted to define the courtyard space and give it its own character. "It's going to be the little shining star," she said.
Patio and Courtyard
A brick paver patio and outdoor furnishings in black and white stand out proudly against the patina of the silos behind.
The Bakery at The Silos
"It's the dream I had in my mind 15 years ago and so, when I'm in that space, I really feel like it really is a dream come true."
—Joanna
Home Goods. Baked Goods. All Good.
Three years later, the Silos welcome more visitors than the Alamo does.
January 2016: Jo's Furniture Collection Hits Stores
After a grand introduction at High Point, North Carolina's International Home Furnishings Market, Magnolia Home Furnishings by Joanna Gaines—with 350 pieces in her trademark combination of global-industrial-French-farmhouse style—made its way into homes all over the country.
February 2016: Magnolia House Opens for Reservations...
... And the McGregor, Texas, bed and breakfast—a property Chip and Jo had originally eyed for clients before deciding to transform it into a vacation property that gives guests the feel of staying at their farmhouse—books up for six months solid in about three hours.
BEFORE: "The Wild West House"
It was Joanna's idea, but her enthusiasm was contagious. This stately (albeit neglected) Victorian in McGregor, Texas was one of the homes Chip and Joanna had shown to clients Jaime and Kyle Ferguson on a home tour. The Fergusons opted for a newer house on a wooded lot, but Joanna positively fell in love with this quaint and historic home built in 1880 – and with the idea of transforming it into a bed and breakfast. It wasn't long before Chip was on board with the project as well.
AFTER: Magnolia House Bed and Breakfast
During the home tour, Chip had dubbed this "The Wild West House" because it was built by a banker in in the late nineteenth century and sometimes served as a makeshift cash repository when money was being transferred via stagecoach. For the renovation, the home's exterior got a new brick skirt, fresh paint and a classic metal roof.
New Adventure
This sign welcomes guests at the newly renovated Magnolia House.
Home for the Holidays
As it turned out, Chip and Joanna would welcome the B&B's first guests – both sets of their parents – during the holiday season. The new front entrance is decorated for the occasion with evergreen garland and urns filled with pine cones, greenery and large red ornaments.
Meet the Homeowners
This time you may recognize them. Chip and Joanna Gaines prepare to take on yet another fixer upper – but this time its one of their own. The soon-to-be bed-and-breakfast is 2800 square feet, has four bedrooms, two baths and comes with a beautiful, private backyard with a gazebo.
Demo Day
Chip gets started with one of his favorite parts of any renovation: demolition day.
The Dining Room, BEFORE
The fabric wallpaper was peeling, the carpet was worn and the brass chandelier, though dated, was more "1980" than "1880."
The Dining Room, AFTER
The renovated dining room gets a restored fireplace, hardwood flooring, an industrial style chandelier and plenty of shiplap.
The Dining Room, AFTER
Furnishings in the new dining room include an antique grandfather clock case and rustic table in distressed white. The original built-in cabinet was retained and is painted matte black for a nice contrast with the white walls.
The Living Room, AFTER
Walls were removed to open up the living room space and hardwood flooring installed throughout.
Finishing Touches
Joanna decides on placement for a framed print in the new living room.
Living Room, AFTER
New, larger windows were added in the living room to bring in more light, and the walls are lightened up with shiplap painted in white.
Oh, Christmas Tree
For the Christmas tree in the living room, Joanna opted for a monochromatic approach – with white and silver ornaments, simple white lights and a ribbon garland.
First Floor Hallway and Stair, BEFORE
Prior to the renovation the hallway had dated wallpaper and an obtrusive stairway enclosure.
Foyer and Stair, AFTER
One of Joanna's recommendations when she showed this house to prospective buyers was to open up the foyer and stair. The renovation included reconfiguring the entry, making room for a perfect reading nook with built-in bookshelves tucked beneath the stairs.
Foyer and Stair, AFTER
The foyer and hallway are lit with pendant lights fashioned in the style of antique streetlamps.
Stairwell, BEFORE
The stair leading to the second floor was claustrophobic, and the steps were covered in worn carpet.
Foyer and Stair, AFTER
The updated stairs are widened and have a sleek look with hardwood and a new iron railing.
Kitchen, BEFORE
The existing kitchen had outdated cabinets, flooring and wallpaper, but it was spacious and offered opportunity for plenty of natural light.
Kitchen, AFTER
The renovation includes custom concrete countertops, a farm sink and new stainless steel appliances.
Kitchen, AFTER
Joanna's simple and rustic style is in evidence in the kitchen with its clean lines, generous work surfaces and open shelving. The multilayered lighting scheme makes use of recessed fixtures, task and accent lighting above work areas and a distinctive chandelier.
Downstairs Bedroom, BEFORE
Downstairs Bedroom, AFTER
This renovated downstairs bedroom now features hardwood floors, cool gray wall paint and a restored fireplace.
Downstairs Bedroom, AFTER
A custom wood headboard and antique dresser pair nicely with the new wood flooring. A door in this bedroom offers access to a side porch.
Downstairs Bedroom, Detail
The mantel is accented for the holidays with a fresh evergreen wreath, and stockings are hung by the chimney with care.
Downstairs Bedroom, Detail
Downstairs Bedroom, Detail
Bathroom, AFTER
The renovated bathroom, done in uniform white, features a glass enclosed shower and antique style pedestal sink.
Bathroom, AFTER
Other highlights in the renovated bath include a pedestal tub, white shiplap and Moroccan style floor tiles.
Downstairs Bedroom #2, AFTER
A second bedroom on the ground floor has two single beds and features enlarged windows, white sheer window treatments and suspended bedside tables.
Downstairs Bedroom #2, AFTER
Downstairs Bedroom #2, AFTER
Wall decor includes a mirror in an ornate frame and a framed print with some words to live by.
Downstairs Bedroom #2, AFTER
Upstairs Landing, BEFORE
At the top of the stairs is a spacious landing with lots of light but worn carpeting and dated railing and wallpaper.
Upstairs Landing, AFTER
New wood flooring, white shiplap a simple bench seat and more modern styled railing make for a dramatic transformation in this space.
Upstairs Landing, BEFORE
The ample space on the upper landing offers room for an additional seating area.
Upstairs Bedroom, BEFORE
This upstairs room was being used as a closet but, for that purpose, the space was awkward and inefficient.
Upstairs Bedroom, AFTER
With just a single bed and spare furnishings, the room converts nicely into a cozy hideaway bedroom.
Upstairs Bedroom, AFTER
A rainy afternoon and the sound of rain on the new metal roof might well be the recipe for the perfect nap in this attic bedroom.
Upstairs Kitchenette, BEFORE
Upstairs Kitchenette, AFTER
New tile floor, white shiplap paneling and a bistro table and chairs transform this formerly wasted space into a casual dining area with coffee bar.
Upstairs Kitchenette, Detail
Upstairs Kitchenette, Detail
Upstairs Bedroom #2, AFTER
Part of the landing and common area at the top of the stairs was reconfigured to make this spacious bedroom suite.
Upstairs Bedroom #2, AFTER
The decor is kept straightforward and clean with a simple wood bench seat, four-post bed and industrial styled dresser.
Upstairs Bedroom #2, Detail
Upstairs Bedroom #2, Detail
Christmas With Family
Chip and Joanna take their parents on a tour of the newly renovated Magnolia House B&B.
Family Portrait
Chip and Joanna reveal the Magnolia House bed & breakfast to their parents for the first time.
Happy Holidays
It's just not Christmas until somebody bakes cookies.
Reindeer R Us
Back at Magnolia Farms, Joanna and St. Nick pose for a pic with a late model sleigh and one tiny reindeer.
October 2016: The Gaineses Share The Magnolia Story
It was high time for Chip and Jo to give their behind-the-scenes lives and backstory the literary treatment, and readers everywhere agreed: Their first book debuted at No. 2 on USA Today's Best-Selling Books list and proceeded to fly off the shelves everywhere.
October 2016: The Magnolia Journal Hits Newsstands Nationwide
Chip and Jo's adventures in print were just getting started, and they doubled down with a quarterly lifestyle magazine. An initial run of 400,000 copies fell short of public demand, to put it mildly, and the publisher rushed out 200,000 more. A little more than a year later, the magazine's rate base is now 1.2 million copies.
October 2017: Chip Publishes Capital Gaines
Its subtitle: Smart Things I Learned Doing Stupid Stuff. What Chip and Jo call his "semi-humble account of a man on a mission" turns out to be a wise move—and another bestseller.
January 2017: Demo Day on Magnolia Table
When Waco's iconic Elite Cafe closed its doors after nearly a century, Chip and Jo knew they wanted its legacy to continue ... and that they were just the team to continue it. The storied location reopened in February 2018 and is now serving breakfast, brunch and lunch—as Magnolia Table.
November 2017: Season 5 of Fixer Upper Begins
In September of 2017, Chip and Jo broke more than a few hearts by announcing that the next Fixer Upper season . That said, their need to take some time for themselves can hardly be called surprising: Their businesses now employ more than 600 people in Waco, their shooting schedule has kept them busy for 11 months a year and it's high time for them to spend some time off-camera, especially because ...
January 2018: A Big Announcement
Five seems to be a lucky number for the Gaines family. On Jan. 2, Chip's tweets about that night's new Fixer Upper episode alluded to a big announcement coming shortly ...
Everyone tune in now for tonight's ! We've got some BIG news to share.. hint #1

— Chip Gaines (@chipgaines)
... and sure enough, he and Jo announced they were expecting their fifth child this year. Though they've committed to keeping their focus on their growing family first, Chip and Jo haven't shown any signs of slowing down, and we're looking forward to them bringing even bigger dreams to life before we know it.
Tune in to Prefit for an all-new episode of Fixer Upper on Tuesday night at 9|8c. And be sure to check out the new spinoff series, Fixer Upper: Behind the Design, airing Tuesday nights on Prefit beginning April 10.