The Fixer Upper Dictionary
Here's our handy-dandy guide to JCSL (that is, Joanna and Chip as a Second Language).
Before Joanna and Chip Gaines beamed their love of #shiplap across Texas and television sets across the country, who would have guessed it would one day be a (modern rustic) household word? As a nod to that humble material's Cinderella story—and as prep for Fixer Upper's fifth season—we've pulled together a what's-what of the Gaines' favorite design terms.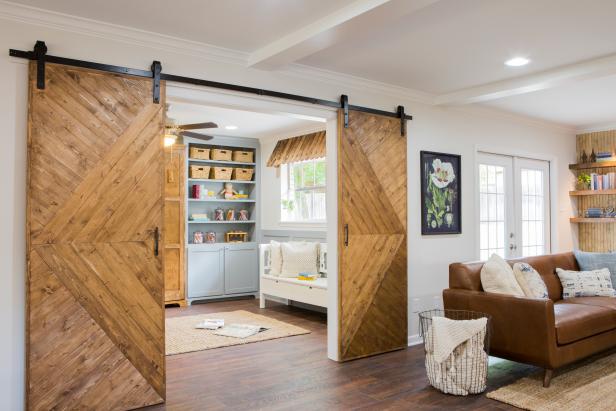 As seen on FIxer Upper, the Phipps' rennovated home now has a children's playroom off from the living room with barn doors for privacy when the room is used as a guest room. (After)
Jennifer Boomer/Getty Images
Traditionally speaking, both hinged and sliding barn doors allow access to barns on working farms. In modern rustic interiors, both reclaimed and constructed versions often roll along with the aid of wrought-iron, top-mounted horizontal tracks and rollers.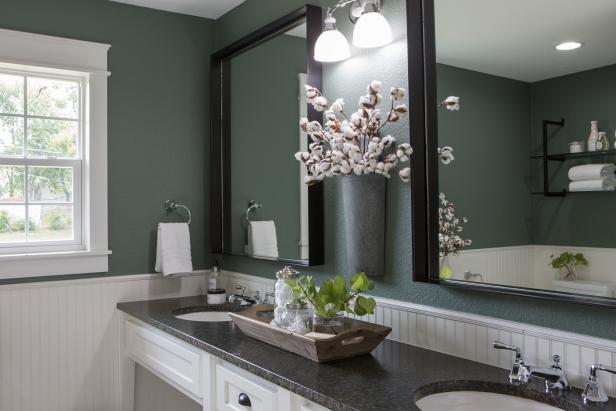 As seen on FIxer Upper, the Graham's rennovated master bathroom has new counter tops, light fixtures, mirrors and his and her sinks. (After)
Jennifer Boomer/Getty Images
Beadboard is made of vertically-mounted slats of wood that fit together with tongues and grooves along their long sides, usually on the lower portion of a wall below a chair rail. The seam where each slat meets another forms a bead—and as a row of beads extends horizontally to form wainscoting, they create a pattern.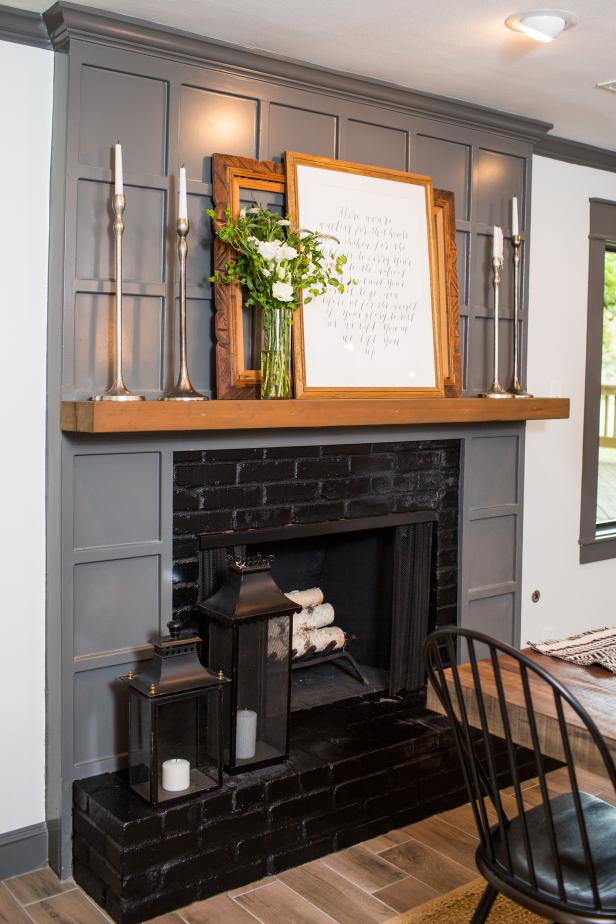 A close up of the fire place in the dining room of the newly renovated Jones home, as seen on Fixer Upper. (after)
Board-and-batten walls, which can be exterior siding or interior paneling, are named for their component parts: The foot-wide boards (or sheets of plywood) are joined by narrow, overlaid battens (a variation on "baton"), which seal and can weatherproof the spaces between them. Similarly, when a ship's crew is instructed to "batten down the hatches" to prepare for a severe storm, they're using battens to secure vertical hatch openings.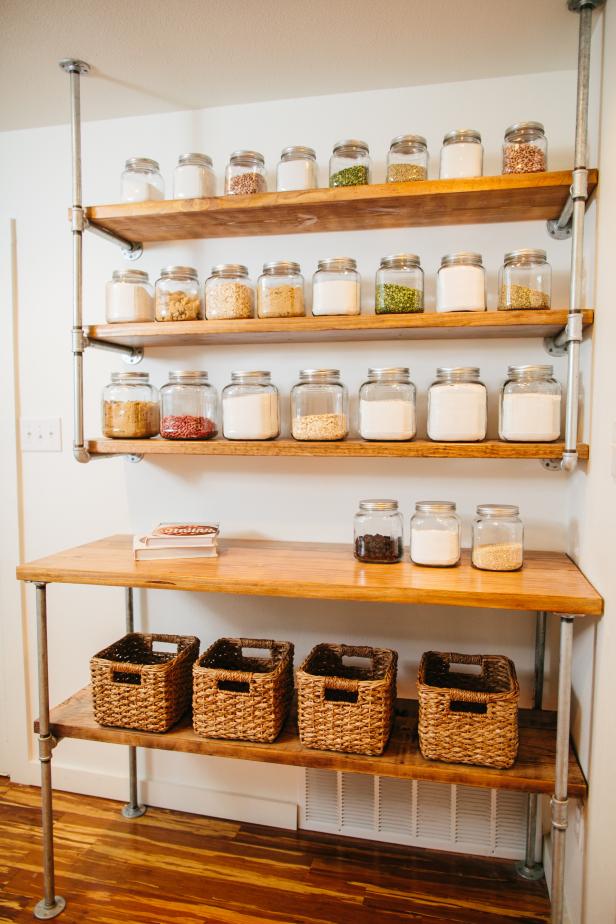 Canisters of spices sit on the these industrial shelves in the butler's pantry. On the bottom shelf are baskets for additonal storage, as seen on Fixer Upper. (after)
Also known as a scullery, a butler's pantry was once a space in a large home where silver, china and large serving dishes would be stored under lock and key. These days, it's a multipurpose kitchen-within-a-kitchen space where home cooks can store spare supplies, duck in to put the finishing touches on a feast and even stash dirty dinner party dishes.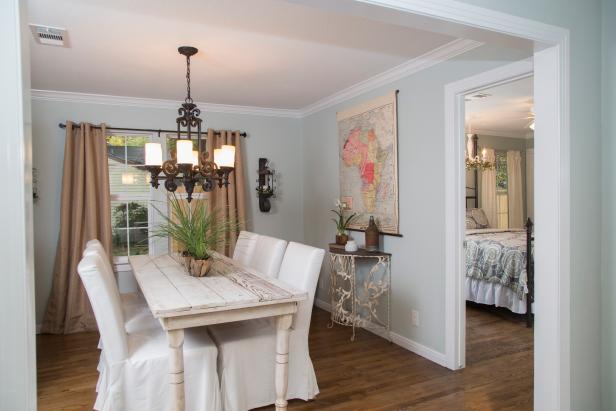 With a new master bedroom addition on the back of the house, the dining room was moved to where the old master bedroom had been. A large opening was cut in the wall for better access to the kitchen. This new, beautiful space has a large rustic dinging table, comfortable seating, and an ethnic light fixture. FIxer Upper Host Joanna Gaines found an old map of Africa to remind Tim and Janice of their true calling, and the other place they call home, as seen on Prefit's Fixer Upper. After 9b. (after)
Sarah Wilson/ Getty Images
Cased openings reject the idea that doorways should have all the fun: Though they're interior wall openings, they boast all of the decorative trim and molding one would install with a door.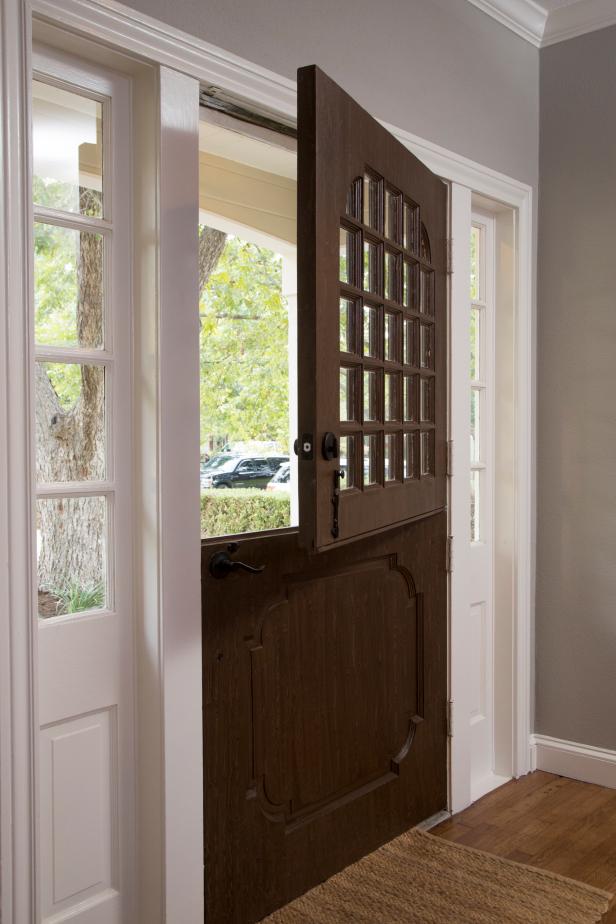 Fixer Upper Hosts Chip and Joanna Gaines kept the original Dutch front door and painted it with a faux finish to look like a dark stained wood grain, as seen on Prefit's Fixer Upper. (detail)
Sarah Wilson / Getty Images
Dutch doors—which came to colonial America with settlers from Holland—were one of this country's first architectural crazes. Because they split just above the knob and latch into pieces that could be opened and closed independently, they were invaluable to homeowners who wanted to breathe fresh air without letting farm animals in (or letting their small children out).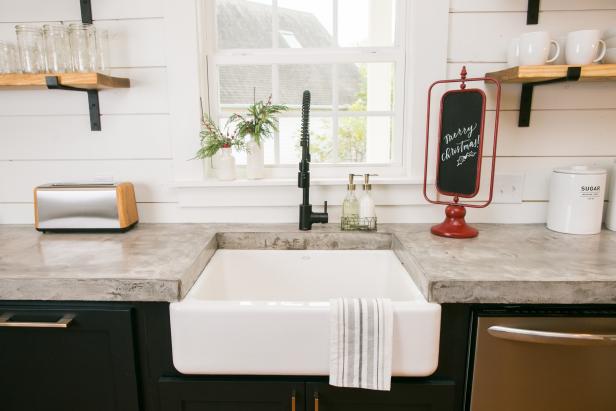 The kitchen in the newly renovated Magnolia House bed and breakfast features custom concrete countertops, a farm sink and stainless steel appliances, as seen on Fixer Upper. (after)
Farmhouse sinks are large, deep and easy to access (due to the lack of additional countertop at their outer edges) because they originated in 17th-century Ireland and Britain when homes lacked plumbing—and kitchens required large vessels to hold water hauled in from the well (or local lakes and rivers). When ladies of the house spent hours upon hours preparing food and washing dishes and clothes at those sinks, the ability to work without leaning over was crucial.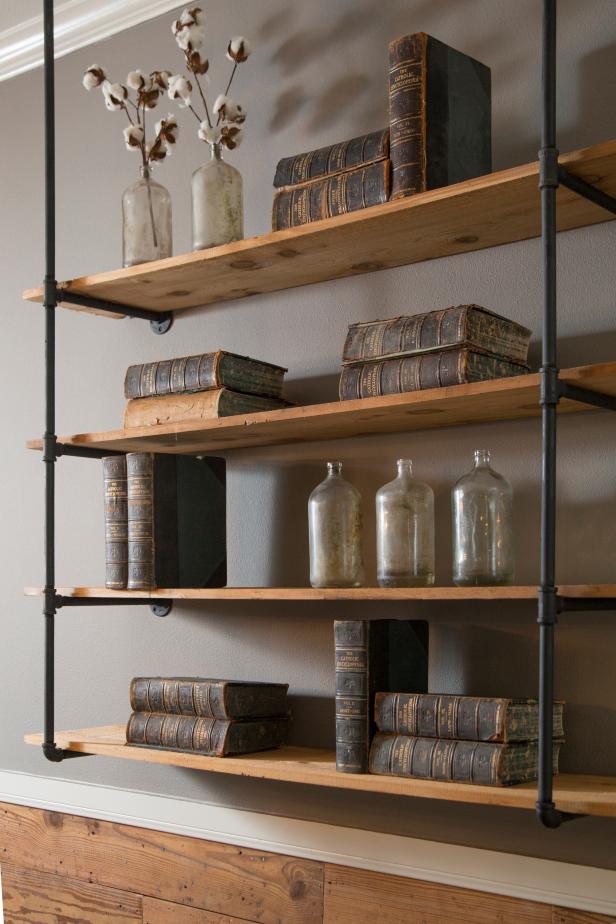 The Gaines installed a modern, sculptural shelving unit in the Batson's living room, made from plumbing pipe and wood planks, as seen on Prefit's Fixer Upper. (detail)
Sarah Wilson / Getty Images
Iron and steel piping was developed for commercial plumbing and irrigation and gas-powered lighting, but the ultra-sturdy tubes, fittings and mounts are now popular as décor, since they can be joined and mounted inexpensively and easily (and look awfully cool—Joanna that viewers started clamoring for an open-shelving DIY after she used industrial pipes in the "Little House on the Prairie" episode of Fixer Upper). Galvanization, in turn, is the process by which a protective coat of zinc is applied to prevent rust.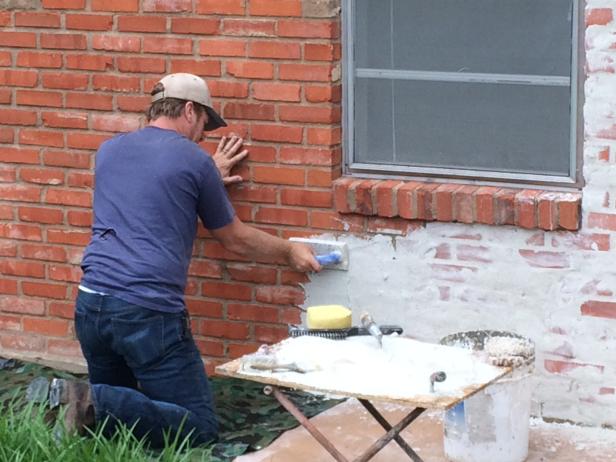 Chip uses a German Smear technique to partially cover the brick on the Jones's house, creating an elegant European look, as seen on Fixer Upper.
The "German smear," or mortar wash, gets its name from the look of irregular stones and heavy mortar found on cottages and castles in (you guessed it) Germany. It's a simple and cost-effective way to whitewash and "weather" unpainted brick exteriors and fireplaces without damaging the bricks themselves. With a mixture of mortar and water, gloves and a grout sponge or trowel, one can create a muted, durable and permanent effect in (OK, almost) no time.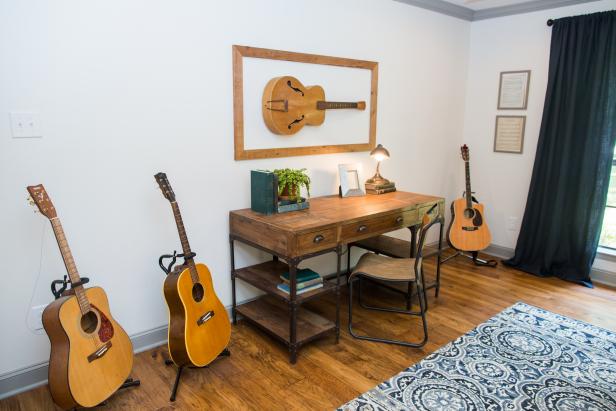 A close up of the desk in the office of the newly renovated Ferguson home, as seen on Fixer Upper. (after)
"Object art" sounds high-concept—wait, is that a Marcel Duchamp thing?—and is actually quite straightforward. Here, it's an unplayable guitar mounted on the wall and celebrated for its beauty. Flea markets and antique shops are, as you would imagine, heaven for fans of object art—and object art is heaven for fans of eclectic homes.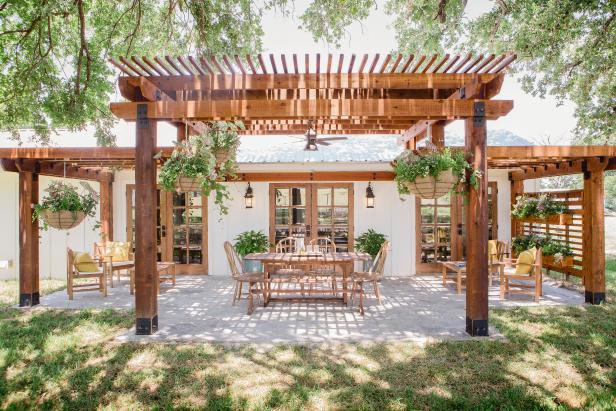 As seen on FIxer Upper, the pergola on the newly remodeled Eberle home. (After)
Jennifer Boomer/Getty Images
A pergola is an outdoor structure—typically found in a yard, garden or park—composed of columns supporting a roof of beams or rafters. Modern pergolas tend to be made of wood, and they're excellent replacements for weatherworn awnings.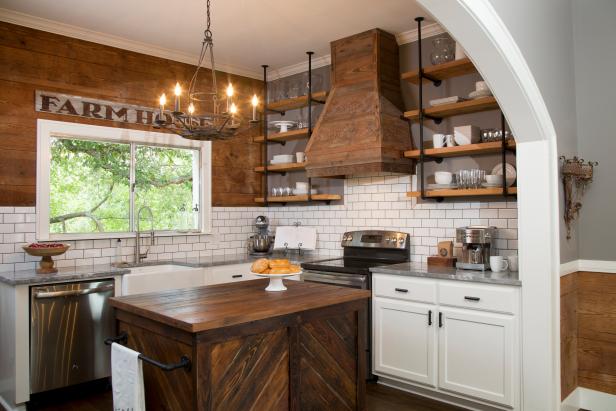 Hosts Chip and Joanna Gaines expanded the entryway to the kitchen by cutting a wide archway, which creates a better flow between the kitchen and dining room. They painted one wall a neutral gray and for the other, they brought in shiplap to match the rest of the house. A white subway tile backsplash and Super White Quartzite countertops add a modern element. There are new cabinets, a wood vent hood, stainless appliances and an under-mounted sink. Modern shelving made from plumbing pipes and wood planks offer additional open storage, and a custom kitchen island made from vintage wood contributes style and utility in the kitchen, as seen on Prefit's Fixer Upper. After #5a (afters)
Sarah Wilson / Getty Images
Technically, it's inexpensive, durable wood paneling with opposing rabbet (that is, recessed and overlapping) joints that first appeared in handcrafted boats and later migrated to barns and now-historic homes, where it served as a base layer for walls before the advent of sheetrock. Ever since the second episode of Fixer Upper, #shiplap has been a character in its own right. Joanna is perpetually delighted to find it beneath wallpaper and other treatments, and you'd better believe she's going to apply it when she doesn't.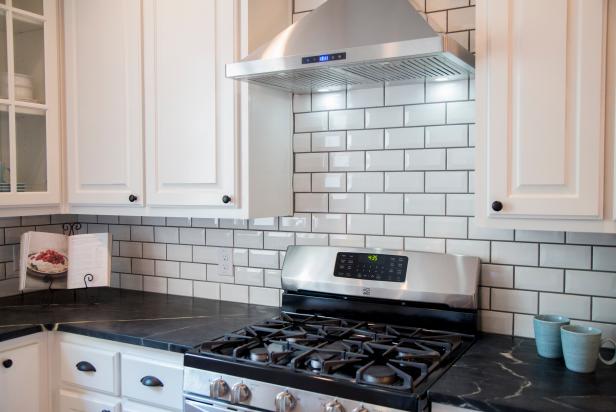 All new white cabinets and black marble countertops bring a modern look to the kitchen. A new stainless steel range and vent hood is surrounded by a beveled subway tile backsplash, as seen on Prefit's Fixer Upper. (detail)
Sarah Wilson / Getty Images
George C. Heins and Christopher Grant LaFarge created the original white 3-by-6-inch tiles for New York City subway stations with Victorian notions of cleanliness in mind. They gained popularity in homes shortly after their 1904 debut, and homeowners still love them more than a century later—in their original room-brightening shade, and in a rainbow of variations—because they're easy to clean, stain-resistant, light-reflective and utterly classic.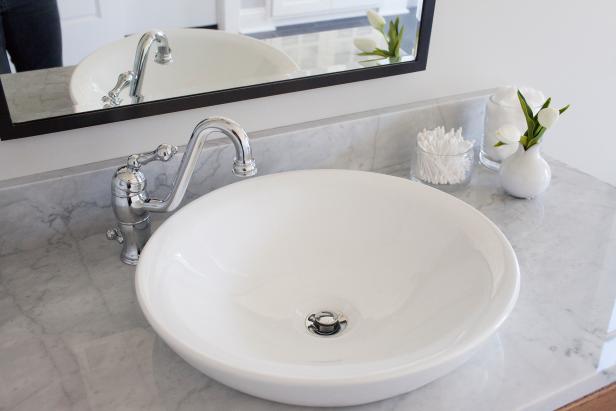 The Ward's master bathroom has new his and her sinks, as seen on Fixer Upper. (After)
Jennifer Boomer/Getty Images
Vessel sinks are the modern descendants of pre-plumbing basins (which sat beside pitchers of water on washstands). Like their predecessors, they sit on bathroom counters rather than nestling into them—but happily, they require far fewer trips to the well.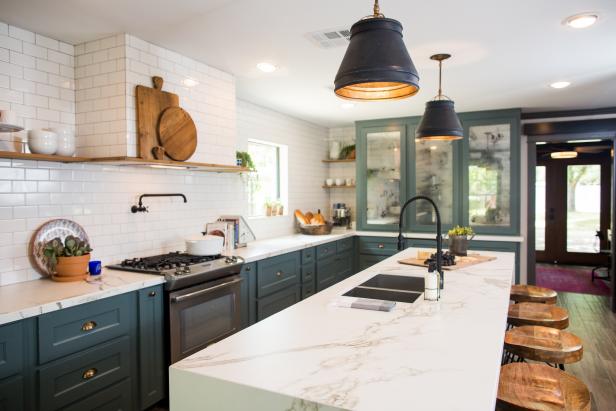 The kitchen of the newly renovated Jones home has been completely transformed. A wall was removed to increase the size of the kitchen and to add to the open feel of the home. Some key elements are the stainless steel appliances, farm sink, pantry, and subway inspired tile on the backsplash, as seen on Fixer Upper. (after)
Waterfall edges—which form 90-degree angles and drop straight to the floor—spotlight the materials with which they're made. Marble, granite and quartz slabs make for showstopping kitchen islands, and humbler components—like resin and concrete—are equally practical (and dramatic) in open-plan living spaces.