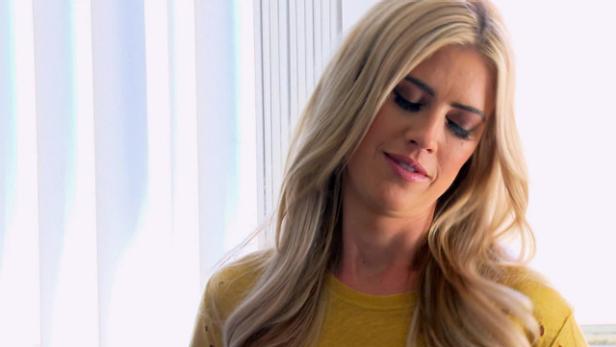 Flip Or Flop: Highlights
5 Videos
Watch best moments, previews, and exclusive content.
Flipping team Tarek and Christina have viewers on the edge of their seats as they purchase dilapidated properties for cash, sometimes sight unseen, and then renovate and flip them for resale. From the nail-biting purchase at auction, to the sometimes-exasperating renovations, discouraging showings and exhilarating sale, will they Flip or Flop?
Season 1, Episode 3
Tarek and Christina snoop a foreclosure in Yorba Linda, CA. After casing the property and looking through the windows, they're confident the house is in good shape. So they head to bid on the house at a foreclosure auction. During a high-voltage bidding war, Tarek and Christina spend $393K on the property, which is more than they planned. Tarek and Christina want to flip this house in 30 days, so they walk through their house with their contractor, Dan Messina. It has a very awkward layout, with the master bedroom located between the front door and the kitchen. But much worse, one of the bedrooms turns out to be an unpermitted loft conversion! They thought they were buying a 4-bedroom house, but it's actually a 3-bedroom house! If they have to market this house as a 3-bedroom, they will actually LOSE money and will have to write a check to sell the house. Are Tarek and Christina going to Flip or Flop?
Sunday
Oct 19
1:30pm | 12:30c
Season 2, Episode 3
Tarek and Christina come across a bank-owned listing which has been on the market for fewer than 24 hours and is only accepting offers until 5:00pm the very same day. It's a house with great potential and Tarek is ready to pounce, so they make an offer and the bank accepts. But as renovation rolls along to bring this home to its true potential, problems arise. As budgets crash through ceilings and deadlines continue to be pushed, could this latest flip turn out to be nothing but trouble, or will it prove it always had nothing but potential?
Sunday
Jan 18
5:30pm | 4:30c
Season 2, Episode 9
Christina receives an e-mail from an agent who has a listing in the South Bay neighborhood of Hawthorne. The dated house needs a lot of work and while it's situated on a busy street near an airport and a noisy elementary school, its attractive list price draws in Tarek and Christina. It's a challenge, but this total renovation is the kind of project they love to take on. That is until work begins and a multitude of hidden problems rise to the surface. Will Tarek and Christina's high hopes fall on deaf ears, or can they overcome this home's loud, louder, and loudest problems to turn a profit?
NO PURCHASE NECESSARY TO ENTER OR WIN. VOID WHERE PROHIBITED. Open to legal residents of the 50 United States and DC, 21 or older. Sweepstakes begins at 9:00 pm ET on 4/7/15 and ends at 8:59:59 pm ET on 4/29/15. The Sweepstakes consists of four (4) individual entry periods. Each entry period begins on a Tuesday at 9:00 pm ET and ends on the immediately following Wednesday at 8:59:59 pm ET. One (1) entry, per person, per entry period. Entries NOT carried forward into subsequent entry periods' random drawings, if any. To enter, and for complete governing Official Rules, code word airing dates/times, entry limitations and prize descriptions/restrictions, visit prefit.info/25grand. Sponsor: Scripps Networks, LLC dba Home & Garden Television, 9721 Sherrill Blvd, Knoxville TN 37932.