Incorporating Character into a Flip
Ken and Anita Corsini flip more than 100 houses a year, and they still manage to add their own special touches to each one.
"As a house flipper," Anita Corsini of Flip or Flop Atlanta says, "you get to experience it all, everything from modern homes, homes built in the 1900s, Craftsman-style houses, simple brick ranches, cottages, you name it—it keeps you on your toes."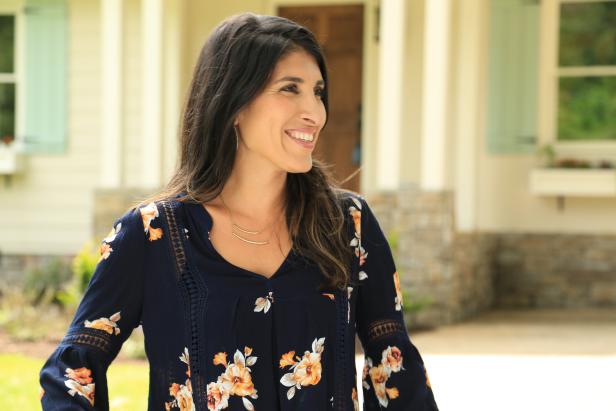 So, Anita, how does one smooth down a home's flaws and spit-polish the details that will make it shine?

"I have my own personal style," she told us, "but I don't always execute my own personal style in every home because we want our homes to reach a broad base of buyers. So typically what I'm looking for in a home is I want the house to fit the neighborhood. So if we are in, say, an in-town, older home, I want to keep with the character of the house, I want to keep with the character of the neighborhood, but bring it up to date."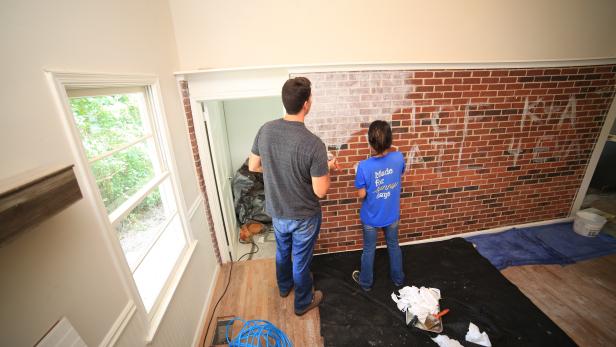 Anita and her husband and partner-in-crime, Ken, honor their projects' original features—like the brick wall in this 1950s ranch house in Ken's hometown of Marietta—by subtracting the elements that don't work (that dated, barn-esque hue) and contemporizing the ones that do (the texture of the wall itself, which will be a selling point once it's whitewashed).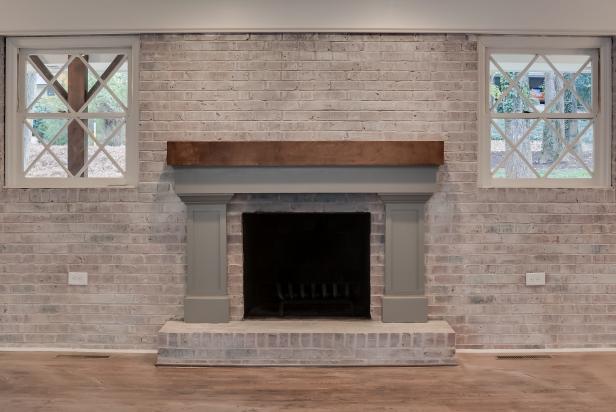 Updating brick is a favorite technique of Anita's, and it's easy to see why. Whitewashed and paired with the fireplace's fresh coat of warm gray paint, this wall (at a home in Stone Mountain, a small suburb east of Atlanta) says "rustic modern" instead of "old curiosity shop."
Anita's appreciation for quirky details other flippers might look to demolish comes in handy in spaces like this bathroom, which has a lot of potential and is also a lot of look. Then again, the tile's vintage blue hue could serve as the inspiration for a whole home's worth of finishing touches. She knows that accent shades can pull an interior together: "I love when a home feels like it has been well thought through and has a cohesive design inside and out," she said. "I do like little pops of color and wow—I refer to that as my pop-o-wow—but I try to keep that in the décor rather than something that is permanent in case it would deter a prospective buyer." Translation: In this home, one could hint at the color waiting in the WC with bedroom and table linens, or accent chairs in the family room.
Keep your eyes peeled for these pops-o-wow in one of Anita and Ken's future projects—antique knobs are a tried and true way to give a subtle nod to a home's history.
Unexpected tiles like these, in turn, could be a fabulous feature in an urban space.
These babies, on the other hand, have a lot of growing up to do before they're ready for their close-up. Anita's positive attitude and vision come in handy when a home's "unique" features stop her in her tracks in a not-so-good way. "It is often the ugly duckling that has the most potential," she said. "I just love seeing the transformation, and what I love having the opportunity to do is experiment with lots of different styles."
Will these characters have a starring role on Flip or Flop Atlanta? Tune in to find out—and to soak up more of Anita's know-how—Thursday at 9|8c.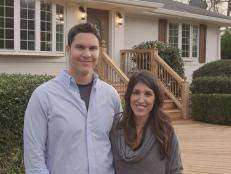 The hosts of Prefit's new Flip or Flop Atlanta started from the bottom with their family flipping business and have mastered the art of working with a spouse.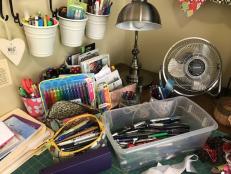 Outed by her husband, Ken, the 'Flip or Flop Atlanta' star and former teacher comes clean about her collection.
The 'Flip or Flop Atlanta' tag team has been flipping since 2005 but melting hearts for decades.
Home renovation expert Cherie Barber says she can take an old, ugly or distressed home, turn it into something beautiful and get it back on the market in just five days. And then she does.
Follow this detailed plan to create a lovely sitting area that's a treat for the senses.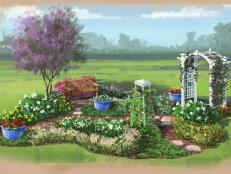 Imagine rela in your backyard amid the blooms of fringe tree, variegated abelia, and other colorful perennials and shrubs. Here's a plan that provides color throughout the seasons.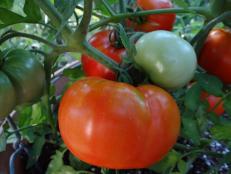 Tried and true hybrids and heirlooms are your best bet when growing tomatoes in Southern gardens.
Prefit is looking for dynamic and handy teams of two who are unafraid to get their hands dirty and flip a house for Prefit's home renovation competition show Flipping the Block.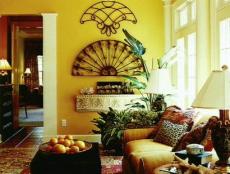 Old ironwork can make a great architectural statement in your home. Julia Hamilton from Southern Living magazine shares some interesting ways to repurpose these beautiful pieces into wall art and more.
Updating a kitchen while maintaining the overall character of a 100-year-old home was the challenge facing Florida designer Cheryl Kees Clendenon.