Mina Starsiak is Pregnant!
Watch the Good Bones star surprise her family with the news of expecting her first child this summer.
The Two Chicks & a Hammer family from Prefit's Good Bones is about to add a baby bird to their flock. And they all found out in one of the best ways ever: on-camera surprise!
Mina Starsiak and her husband, Stephen Hawk, are expecting their first child later this summer, and in true Mina fashion, she went the extra mile in revealing the news to both her husband and her mom earlier this winter with some extra thoughtful gifts — a gift box with baby booties for Stephen, and a custom woodworking of the Two Chicks & a Hammer (Karen and Mina's business) logo for Karen.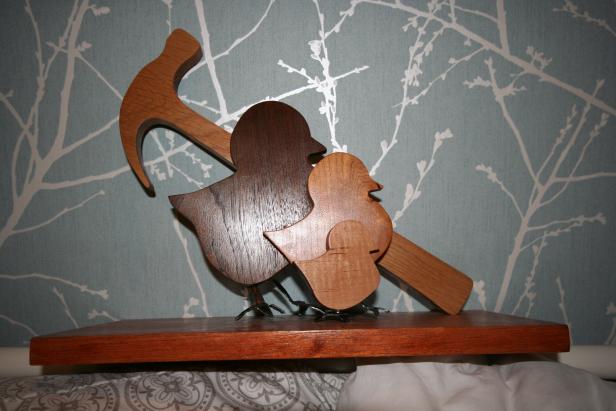 "I wanted to do something a little creative, and people always say, 'When's the baby chick coming?'" Mina said. "I had a local woodworker make the Two Chicks logo, and there's a puzzle piece where the baby chick will go next to it."
(This family loves surprises! If you remember, Stephen proposed to Mina with an elaborate Indianapolis scavenger hunt back in 2015, and Karen was in on it from the beginning.)
Mina and Stephen
...were wed on Saturday, the eleventh of June, two thousand and sixteen. The ceremony and reception were held at the historic 1899 building in Indianapolis, Indiana.
Mina and Stephen
Practice Makes Perfect. The bride and groom show off some of the dance floor skills they mastered during the 10+ lessons taken at Starlite Ballroom in preparation for their wedding. The couple was determined that their first dance at the reception be flawless. This photo, by the way, was one of Mina's favorites from the wedding according to .
Presenting the Bride, Mina Starsiak Hawk
Mina wore a striking mermaid-style dress by Romona Keveza.
Presenting the Bride, Mina Starsiak Hawk
Principal Players
The bride with maid-of-honor Kelsy Gray and mom (and Good Bones costar), Karen E Laine
Mina and Stephen
Inventive Proposal. Stephen proposed to Mina on the 50-yard-line of the Indianapolis Colts' training field, following an elaborate scavenger-hunt style series of clues and destinations
Wedding Day Prep
Hair and Make-Up. Mina and mom, Karen, get wedding-day activities underway with a stop at the salon.
Wedding Day Prep, The Guy Version
Wedding Day Prep, The Guy Version
Wedding Day Prep, The Guy Version
Presenting the Groom, Stephen Hawk
Wedding Day Prep, The Guy Version
Wedding Day Prep, The Guy Version
Sharp Dressed Men
The groom was in classic black tux while the groomsmen and best man sported tailored black suits, white shirts and black silk ties — Reservoir Dogs style.
Get Me to the Church On Time
Down to the Wire
Dedication to Craft. Mina may have swapped her hand tools for a handful of pink peonies and hydrangeas for the day, but a photo-op on a work ladder and in beautiful wedding dress was simply too tempting to pass up.
The Lady and Ladies-in-Waiting
Participants Await
Officiating the Ceremony. As some dedicated Prefit fans already know, Mina's mom Karen is something of a renaissance woman. Not only does she renovate houses and co-host a TV series, she's also an attorney and a licensed minister. With credentials like that, the choice of who would perform the wedding was an easy one. Plus, as Mina noted, mom's fee — at "free-ninety-nine" — was quite reasonable.
Ceremony and Celebration
Mina an Steven read promises to one another, a contemporary alternative to traditional vows.
Who Needs Cake
...when you can have donuts?!
In lieu of a traditional wedding cake, Mina and Stephen opted for 400 donuts from Long's Bakery — an Indianapolis institution that was recently named to a list of the 33 best donut shops in the US.
Needless to say, Karen, who said she has been "waiting for this [grandbaby] for so long," had the most Karen reaction ever.
"Because I finally made a grandbaby for you, you're never allowed to be mad at me again," Mina told Karen. "I think that's how it works."
Mina and Stephen had already been hard at work building a new house for their growing family before they found out about the pregnancy, but they hope to have their new digs finished in time for the baby's arrival sometime in August. But, not to worry, they won't be moving far from neighbor and Future "GG" Karen, as the new space is just a few doors down from their current one.
"The new house is a-maze-balls!" Mina said. "This is our forever home, so I've poured over the floor plans for about a year and included everything we could ever want or need, including a dog bath area, a second living space and a third space exclusively for a kids play space."
So far in her pregnancy, Mina says the baby has forced her to slow down — a tough task for a self-proclaimed workaholic — but that hasn't cut down on her excitement to be a new mom.
"I'm not the girl that grew up talking about her wedding and babies since she was a little girl," Mina said. "I definitely took my time, and I'm just so excited that that road has put me where I am: loving my career, having a smokin' hot husband, who is just the greatest, and choosing to start our family at a time where Steve and I can really be our best and do our best for the first of hopefully a couple little ones."
Taking on the role of caretaker isn't exactly new for Mina and Stephen. In 2017, they took in Mina's sister's 2-year-old daughter, Julie "Juju Bean," for about a year, and the experience only confirmed the couple's decision to start a family.
"Julie was definitely not planned but was the most incredible thing I think either Steve or I have been part of," Mina said. "Having another human depend on you really changes you in a way you can't really put into words. Seeing the amount of love Steve developed for Bean in such a short amount of time, someone who was previously a stranger to him, solidifies how awesome of a dad he'll be."
OK, but what about Mina and Stephen's first children? (The dogs, duh.)
"My two beasts Sophie and Frank both absolutely adore kids, so I think they're going to be great," Mina said. "And Frank [our newest pup] will be just a bit over a year when the baby is born, so they'll get to grow up together!"
Now that she and Stephen are expecting their own child, she acknowledges how large a part her family will play in her growing family's lives going forward.
"We couldn't be luckier to have so much family, and of course friends, around to support us," Mina said. "It definitely takes a village."
Congrats, Good Bones family!