Home Town: A House Too Big to Move?
Ben and Erin may have bitten off more than they can chew when they take on a project for a client who wants to move and then renovate her great-grandmother's 1930s home. Sometimes it's good to have a 'Plan B'.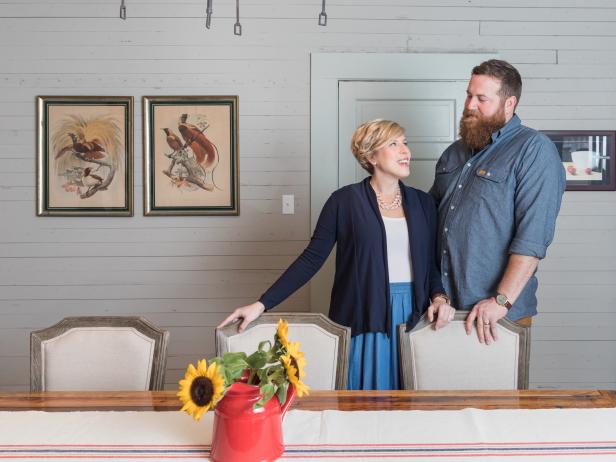 Erin and Ben Napier at the newly renovated Rahaim house
Todd Douglas/ Verbatim
Erin and Ben Napier at the newly renovated Rahaim house
What happens when you own a house, but somebody else has bought the land that it's sitting on? For Robyn and Cassidy Rahaim, there's just one answer. Lift the house of the ground and move it. Oh, and get Ben and Erin Napier help with the move then let them renovate the house. Simple, right? Maybe. Maybe not.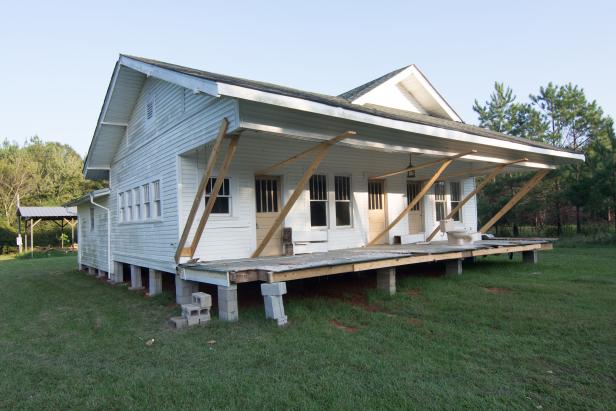 Robyn's family home will have to be moved if it's to be saved.
Robyn's family home will have to be moved if it's to be saved.
The Players and The Challenge
Here's the situation: Robyn and Cassidy are newly married and have a five-year-old daughter. The land that had been Robyn's family farm had been sold, however the new owner didn't want the house, just the land. Consequently, the house was set to be torn down. Not willing to see the family home vanish into nothing, Robyn had a plan. "Well, we've got to move it," she said matter-of-factly. "We're keeping it."
The house, which was Robyn's family's original farm house, was built in 1938. It had two bedrooms, 1800 square feet and some desirable features like interior French doors, high bead-board ceilings and hardwood floors. It also had three separate front entrances, a rotting porch and two missing support columns. The cost to move it is $15,000. If that can be done successfully (the big "if"), Robyn and Cassidy's $100,000 budget would leave around $85,000 for renovations. Erin and Ben can take it from there. That's best-case scenario, and Erin has some ideas in mind if things play out as planned.
I mean, that's like the ultimate family heirloom.
Ben Napier
But there are some caveats. Ben and Erin have taken on some fairly intense renovations thus far in Home Town, but nothing like this. Moreover, there are always inherent risks with moving a house, and a myriad of things can potentially go wrong. Some houses don't survive a move. "It's just a little intimidating," understated Erin. "Yeah, I've never moved a house," added Ben, without missing a beat.
They want us to actually pick this house up...relocate this house...and make it beautiful.
Erin Napier
But they're willing to give it a try, but have a backup plan in their back pocket in case of an epic fail. The Plan-B scenario is The Key House, a charming '40s vintage home with some nice vintage features — including one especially important one attribute: it can remain where it is.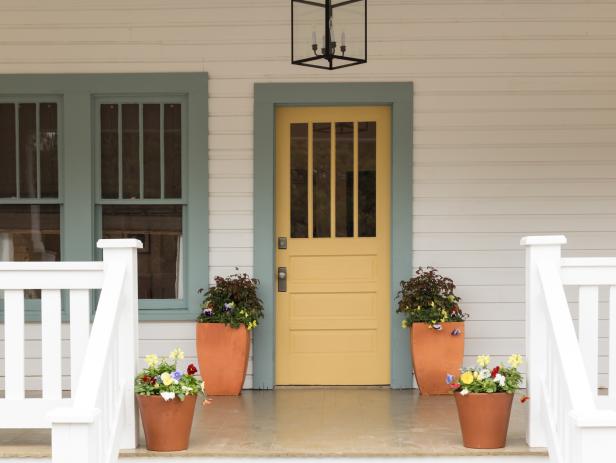 As seen on Home Town, Hosts Ben and Erin Napier redesigned the exterior of the Rahaim residence to a craftsman style with large tapered columns to accent the large front porch. (after)
Not to give too much away in terms of where exactly the Rahaim family ends up at the end of of this project, but let's just say that one epic adventure and one collapsed chimney later, renovations can get underway — on a house that's sitting firmly on the ground.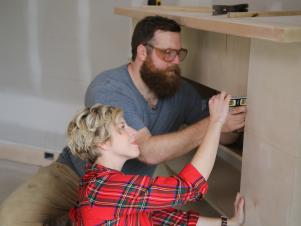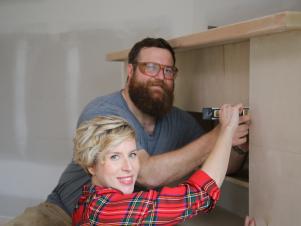 Hosts Ben and Erin Napier level the mantle with precision at the Simmons-Rahaim house on Home Town
Hosts Ben and Erin Napier pause for a behind the scenes look while working on the Simmons-Rahaim house on Home Town
Highlights in the Rahaim's newly re-envisioned home include a massive front porch, bead-board ceilings and beautiful wood floors. There's custom dining table and a vertical-storage dish rack — both a la Scotsman Co. by way of Ben Napier, and an antique bench that Ben salvaged and customized by Ben using reclaimed wood.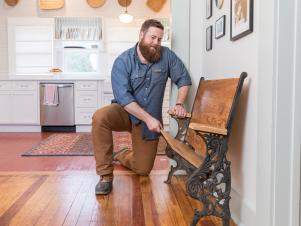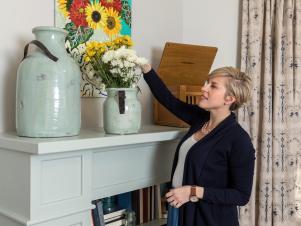 As seen on Home Town, Host Ben Napier inspects the bench that he built for the foyer of the Rahaim residence. (action)
As seen on Home Town, Host Erin Napier works in the living room on the final decorations to the fireplace mantle before the reveal of the renovated Rahaim residence. (action)
A refurbished kitchen features bead-board paneling and a painted wood kitchen floor in rust red.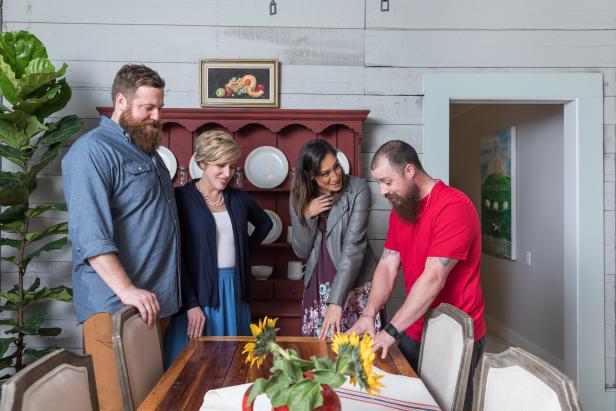 Ben and Erin with homeowners Robyn (C) and Cassidy (R) in the newly refurbished dining room.
The Home Town episode titled "Move It or Lose It" premieres Monday, February 12 at 9p|8c. Check here for additional air times, and check back here to see the full photo gallery, and to see more new galleries, exclusive video and show updates.